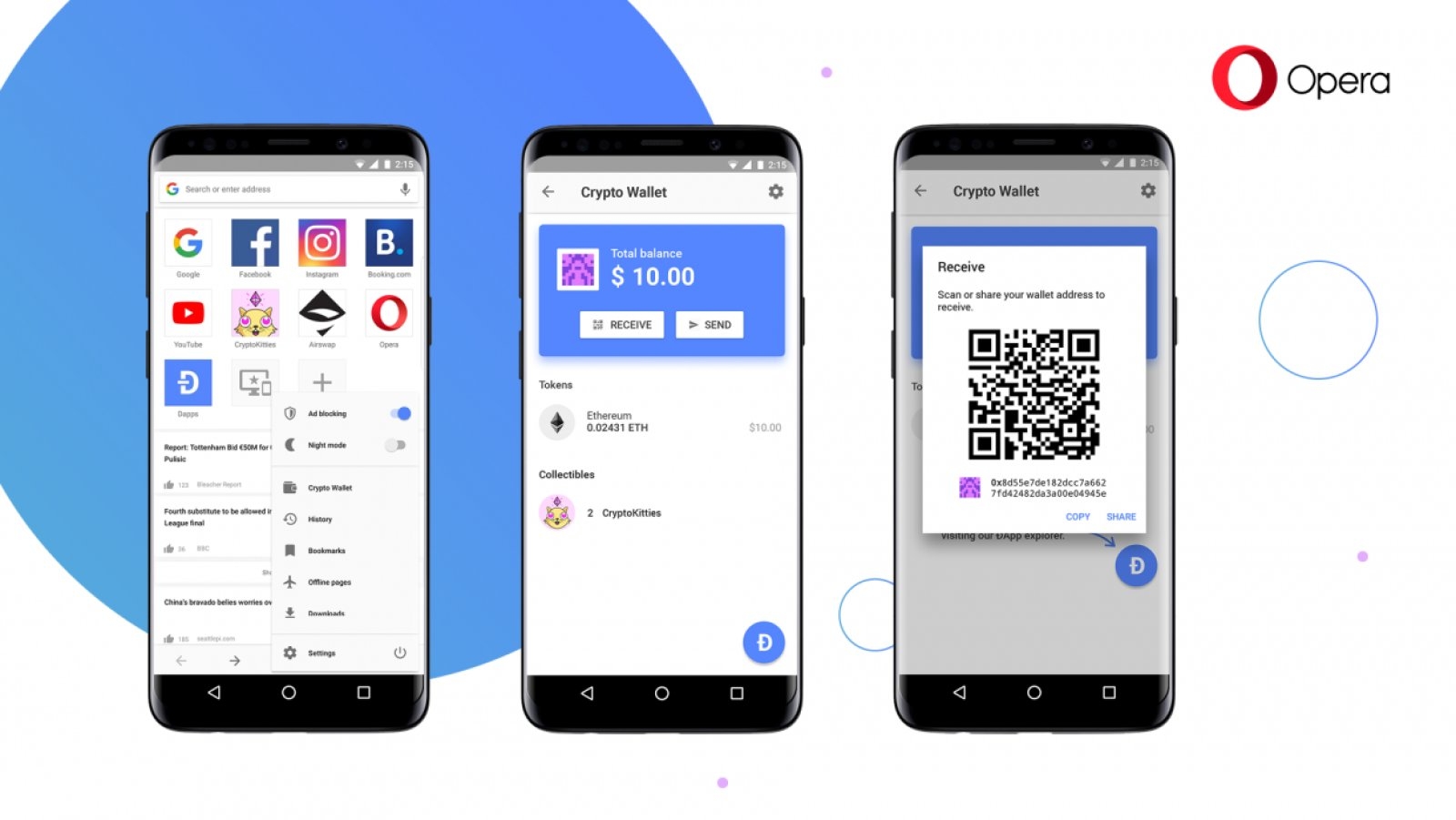 Opera is embracing the cryptocurrency movement by testing an Ethereum wallet in its Android mobile browser. It makes Opera the first major browser to add a built-in crypto wallet. You can import an existing wallet or create a new one, and it allows you to send and receive money directly in the browser, as well as make online purchases where merchants support crypto transactions.
Opera's official account on Twitter tweeted:
"Psst! Opera for Android now has a built-in crypto wallet. You can easily transact with crypto and discover Web 3.0 right in your browser. Learn more: http://opr.as/operaf1fcd"
Opera will be integrating the Ethereum Web API into its Android browser, making it the first of its kind. Web 3.0 is an update to Ethereum's previous web 2.0 which was criticized for being too centralized.
Web 3.0 not only fixes the decentralization issues of its predecessor it provides more security amongst other features. The integration of Web 3.0 into the Opera browser means that the Android application will support Ethereum's decentralized apps (dApps).
Ethereum is the second largest cryptocurrency around, with a bit less than half the market cap of bitcoin, but far outpacing other coins. Opera chose the Ethereum platform in part because of how developers have embraced it to create apps with games, collectibles, exchanges and gambling; the browser supports some of these apps and the wallet can store tokens and collectibles such as unique digital cats from the game CryptoKitties. Opera says that the browser will support other currencies in the future.
In a private beta test, Opera has already begun rolling out the Crypto Wallet enabled version of its browser to selected users. The new tool is expected to be rolled out for the public in near future.
Opera depends on Android's operating system [OS] to provide protection and locks to sign transactions from the Crypto Wallet. This is a plus point for clients, considering they don't have to make new PIN codes or passwords to utilize the wallet.
Charles Hamel, Product Lead of Opera Crypto said:
"Paying with the Crypto Wallet is like sending digital cash straight from your phone, and we've just made it easier. This opens up new possibilities for merchants and content creators alike."
KryptoMoney.com publishes latest news and updates about Bitcoin, Blockchain Technology ,Cryptocurrencies and upcoming ICO's.
Get Latest Bitcoin and Crypto News
Like us on Facebook
The post Opera is Now Testing Ethereum Wallet in Its Android Mobile Browser appeared first on Latest Crypto News.